Celebrating the Inspirational Women of the Own My Life Programme
21 Apr 2021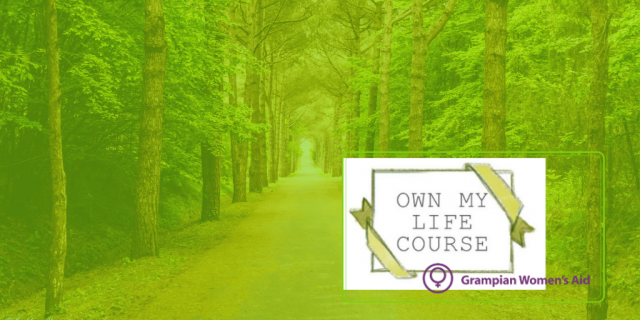 How It Started
It is well understood and recognised that taking time to consider and understand their own experiences of domestic abuse is fundamentally important in helping women to rebuild their lives.  With this in mind, and for some time now, Grampian Women's Aid have been exploring ways of bringing women together to reflect and learn in a collaborative and supportive group environment.
We were delighted to find out about Own My Life (OML), an evidence-based programme written by feminist writer and domestic abuse survivor, Natalie Collins.  Taking place over twelve weeks, the course is aimed at educating and empowering women to regain ownership of their lives when they have been subjected to domestic abuse by a partner.  Our Group Worker, Sandra Copland, signed up for and completed intensive Own My Life facilitator training with a view to bringing the Own My Life programme to women in Aberdeen and Aberdeenshire.
Own My Life Launches
In December, Sandra and the six women who joined the inaugural programme were ready to go. There followed, over the twelve weeks of the course, much hard work, discussion, and personal reflection. Some examples include:   
exploration and understanding of painful memories.
discussion around abusive behaviours, sexism, misogyny and disrespect in relationships and their reinforcement by popular culture highlighted.
learning how men's abuse is rooted in entitlement and ownership.
understanding the dynamics of domestic abuse and what drives the abuser's behaviour.
The nature and content of the course is such that it was at times emotional and draining but, always, there was fun, laughter and a sense of belonging, a feeling of working and learning together, and supporting each other outwith the group sessions.
Reflection on Twelve Weeks
At the end of an intensive twelve weeks, the women took time to reflect on what the programme has meant for them personally. To consider how it has impacted their thinking, their lives, and their future. Let's hear what they had to say: 
"A very helpful course. Helped gain back some confidence and recognition of the effects of abuse on me. Reflective and emotionally difficult at times but definitely worth it to help move on my way to recovery."


"Gives better insight into the types of abuse experienced and how to better deal with them and how best to move forward, taking control back of my own life."


"The course has given me more personal skills and knowledge to help me deal with previous abuse and move forward with my recovery. The power threat meaning framework was powerful and the work on the stress cycle and assertiveness has proved extremely useful. The peer support been great."


"It's crucial to recovery – to help me to know there's a way forward."


"Some deep soul searching."


"Prior to OML I felt I was a hamster on a wheel, just surviving. Now, I can take back control of my life."


"Before OML, I blamed myself, I felt I let the abuse happen, it felt like it was my fault for marrying this monster.  This course has helped me to remove my feelings of blame and worthlessness."


"Before OML, I thought I was in the wrong. The course has given me confidence.  It has given me tools to use in future relationships.  I can now see what a good relationship should be."


"The session on values really blew my mind.  How could I not have known this before? The course has been life changing for me and feel I can now move on with the rest of my life."
We can see the learning, support and understanding shine through in these comments.  However, it's not only the women participants who feel this way, facilitator, Sandra, has some thoughts of her own: "Being part of the women's journey in group has been humbling for me as a worker. The women are truly insightful and courageous. The group had a real sense of women supporting women as they took ownership of their lives."
The second twelve-week Own My Life programme is now completing and a fully booked session three is well underway. For now, though, lets take time to celebrate the achievements of these courageous women.
*******************************
With sincere thanks to the Own My Life programme women who gave their permission for their own words to be used in this article.
You can find out more about the Own MY Life programme here: http://grampian-womens-aid.com/our-services/womens-services/own-my-life/